All events
Showing 1 - 5 of 81 events
Date: 07 October 2020 and 18 November 2020
Time: 10:00
Booking and Further Information
Event is suitable for:
Students and alumni interested in finding job or internship abroad or in the UK

Goinglobal is a one-stop shop online resource for any student and alumni looking to work abroad. 

As well as advertising job and internship opportunities around the world, G

oinglobal

 

provides useful country guides (as well as 

USA and Canada city guides) covering everything from job-search resources, job-market information, application tips and information on work permits and visas.

This webinar will explain on how to best use Goinglobal and how to search for jobs worldwide as well as in the UK. 

To access Goinglobal, visit this website to register now. 

To visit previous Goinglobal webinar recordings, visit: https://online.goinglobal.com/training-videos



Only available for University of Leeds students and recent graduates.
Book Now
Date: 07 October 2020 and 02 December 2020
Time: 12:00
Booking and Further Information
LUBS-parented UG second year student?

Want extra help or support with your own Placements or Internships Hunt?

Why not come to Placement Hunt Club which starts this week on Weds 07th Oct from 12:00 until 13:00

Please read on to find out more about the club.

To join on the day please click on the link at the very end of this message

· What: A club that meets every Weds during term-time to help you with your work placement and or summer internship hunt strategy and steps - why not come along to week 1 and any sessions of interest?

· Who: The club is for any current LUBS-parented penultimate (typically second) year students who are looking for a placement and/or summer internships and wants extra support this process alone

· Where: The club will run online - please look out for the link to join the 1st session early next week

· When: Starts Wednesday 07th Oct 2020 through until Weds 02nd Dec 2020

· Time: 12:00 to 13:00 each week - unless advised otherwise

Topics: Week 1 we will look at

· Your Placement Hunting Strategy

· What's on offer placements-wise

· Why, how, where and when to look for placements

· Costs fees and funding of the work placement year for UK, EU and international students

Following Weds: We will look at topics at the groups' pace and cover:

· Placement Job Adverts and making a start on applications

· Making better applications

· Interviews skills

· The dreaded psychometeric tests and how to get better at them

· Assessment Centre techniques

· Resilience - bouncing back during the placement hunt

There will be top tips from placement students and employers along the way too and we have a good success rate for students who regularly attend the club gaining placements quite early on and in semester 2 as well.

Looking forward to meeting with those who wish to attend. 

Join directly via Microsoft Teams
Only available for University of Leeds students and recent graduates.
Book Now
Date: 07 October 2020 and 25 November 2020
Time: 12:30
Booking and Further Information
Cultural Insight Wednesday (CIW) is back!
This semester Cultural Insight Wednesday will explore the rich and diverse cultural-capital available here at LUBS. This weekly student-led event will help you explore how intercultural competence can help you broaden your perspectives on study and work.
It will be held at the same time each week this semester online via Zoom
This week Rubab, a student from the UK explores how her project management experience of a student-led event at LUBS helped develop her intercultural competence and landed her an interesting graduate opportunity at HM Revenue and Customs.
When: Wednesday 28th October at 12:30-13:30
Where:
https://universityofleeds.zoom.us/j/81228559103
Only available for University of Leeds students and recent graduates.
Book Now
Date: 12 October 2020 and 25 November 2020
Time: 09:00
Booking and Further Information
Business start-up online workshop series
Spark workshops have now changed as a reflection of the current pandemic and will be delivered online.  
This series of pre-recorded workshops is designed not only to give students and graduates of the University of Leeds an insight into what running their own business will be like, but also to provide you with very practical advice and tips for dealing with the things you will encounter when thinking about, and commencing, a new commercial venture.  
Current students can register their interest in the Spark workshop series via Careerweb only on the days set out (currently Mondays and Wednesdays). You will then be sent login details to your student email address which will allow you access to the online courses.  You only require to sign up for the workshop series once.
From then on, the workshops will be available for you to access at any time of day or night and are available throughout the year. They are in short bite size chunks, easy to digest and follow, and you can dip in and out of them at your own pace. These are pre-recorded workshops.
Once you have signed up for the workshop series you will then be sent login details to your student email address in due course. You can then access the workshops 24/7. 
Following on from the workshops, you can then ask questions to the presenters during our online Q and A sessions. You can sign up for these sessions through Careerweb. Please access and complete the relevant online workshops before signing up for the Q and A sessions.
Following on from the above, you can request a 1-2-1 virtual meeting with a Spark Business Advisor to discuss your business idea in greater depth by contacting Richard Doyle on r.o.doyle@leeds.ac.uk 
Only available for University of Leeds students and recent graduates.
Book Now
Date: 01 November 2020 and 08 November 2020
Time: 14:00
Booking and Further Information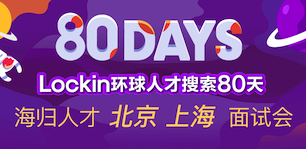 LockIn are organising 2 Career Fairs this November. 

More than 50 employers like Apple, Suning, Schneider, Du Xiaoman Financial, Sino-Ocean and DECATHLON will be on-site, offering various career options.



1. Beijing



Hotel New Otani Chang Fu Gong Beijing



1 November 2020

2pm - 6pm 

2. Shanghai



China Financial Information Centre



8 November 2020
2pm - 6pm 

For more info and to sign up - visit: http://promotions.lockinu.com/eightyDay/2020jobfair


Only available for University of Leeds students and recent graduates.
Book Now